Hello, I hope you all had a nice weekend!
Today, I have an avocado feta dip that I learned how to make last summer. It's really good for you and OMG it tastes amazing!
It's supposed to look like this according to allrecipes.com which has a similar recipe to the one I make: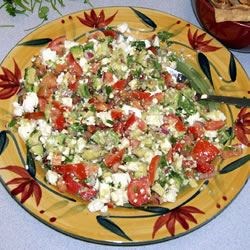 Mine however turns out like this thanks to over-stirring (and perhaps too much cumin...but I love the smell of cumin!)
So the ingredients and the directions...
Ingredients:
2 large avocados, chopped
4 Roma tomatoes, chopped
4 oz. Feta Cheese, crumbled
1 bunch cilantro, chopped
1 small red onion, chopped
1/4 cup red onion
1 tbs. cumin
1 tbs. red wine vinegar
1 tsp. Kosher salt
Directions: Gently mix/turn (see where I always go wrong? lol) avocado, tomatoes and onion. Add cilantro and mix. Add Feta, olive oil, cumin, red wine vinegar and salt. mix and chill.
This can be eaten with tortilla chips. You would be amazed how good this tastes! :-D
I hope you enjoy this